Cancel or skip easily anytime
Save 10% on all coffee
Free shipping on entire basket
Pre-shipment reminders with 1-click delay
Double the quantity of other coffees
Including FREE delivery
£3.49 UK shipping
Spend £35+ for FREE UK shipping
Subscribe & save when ready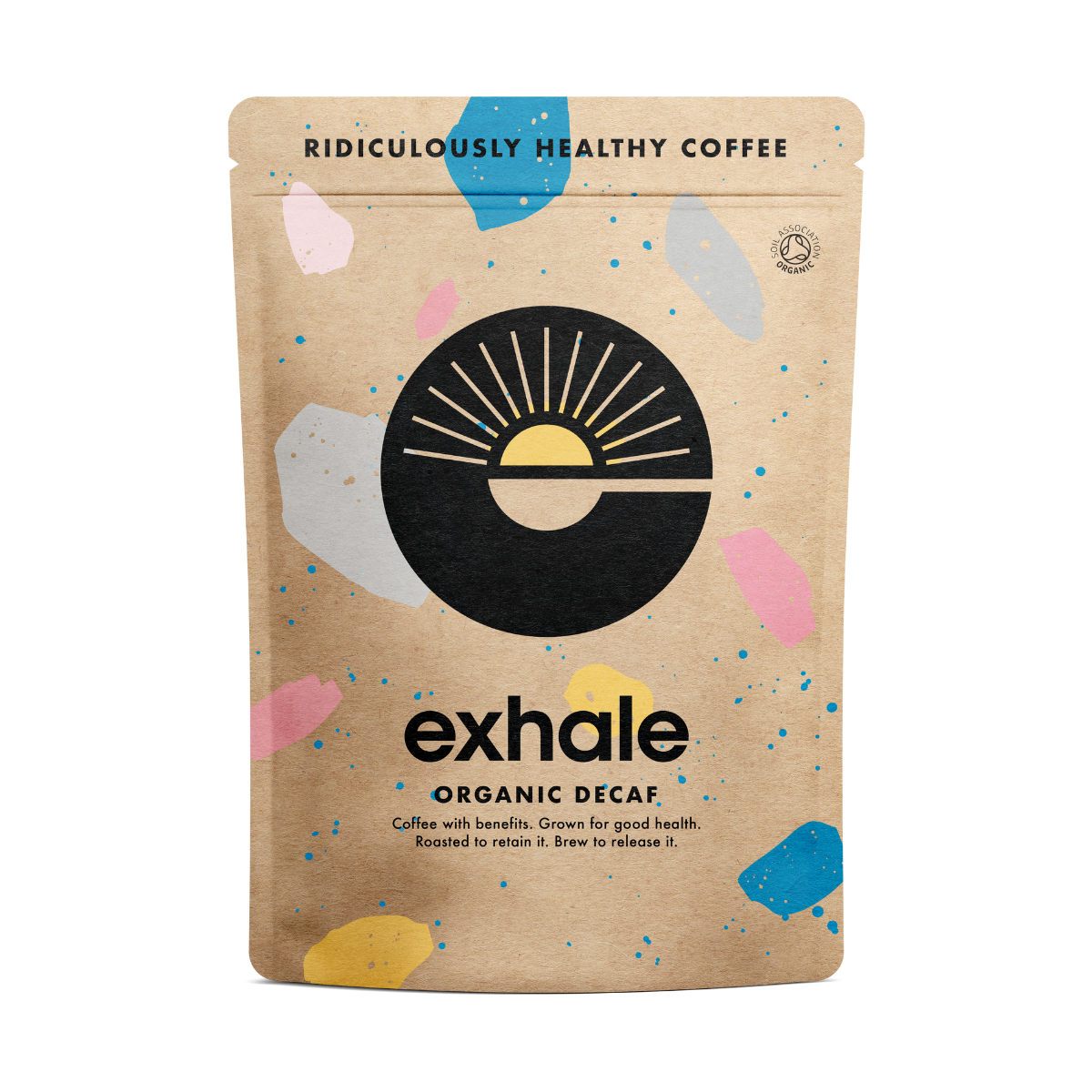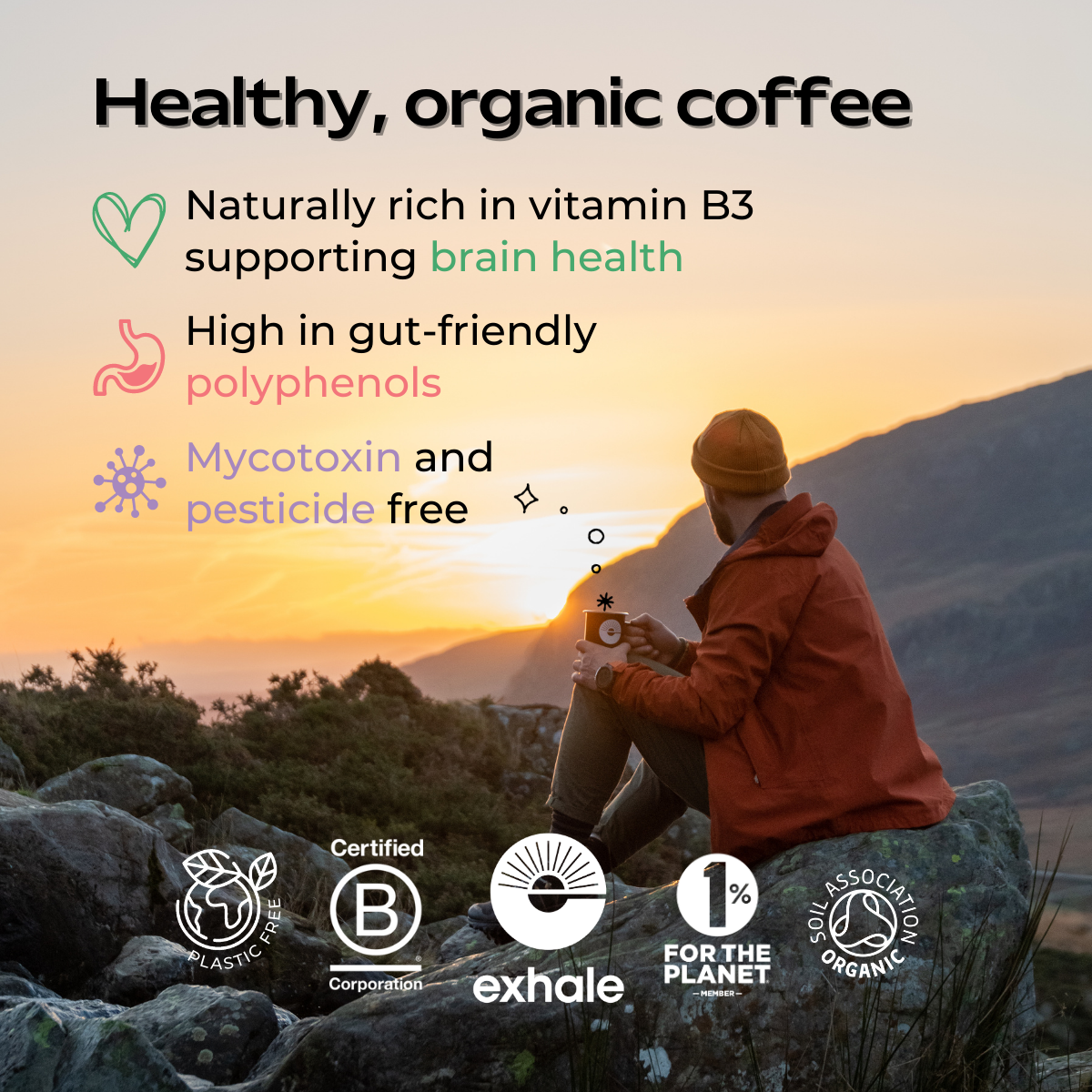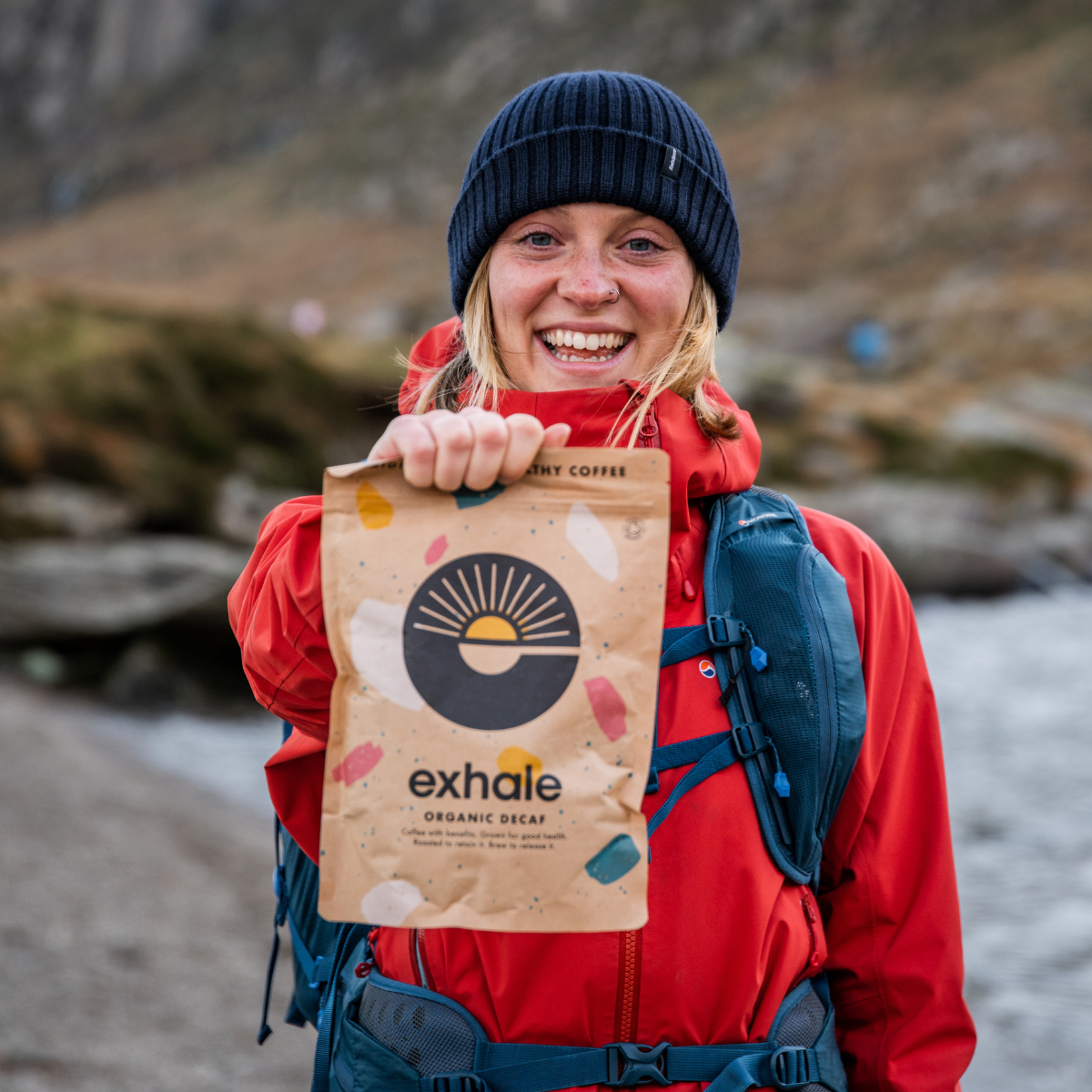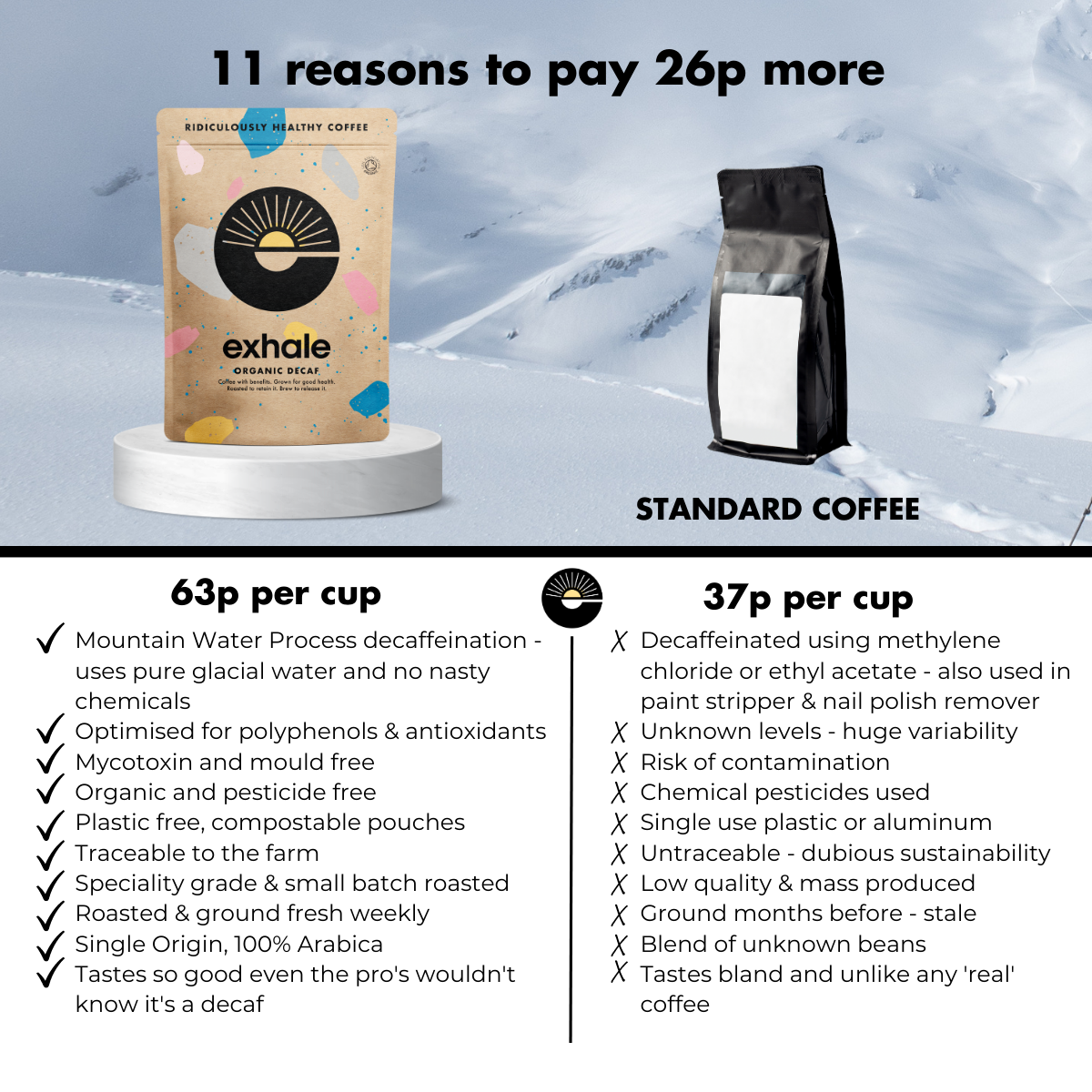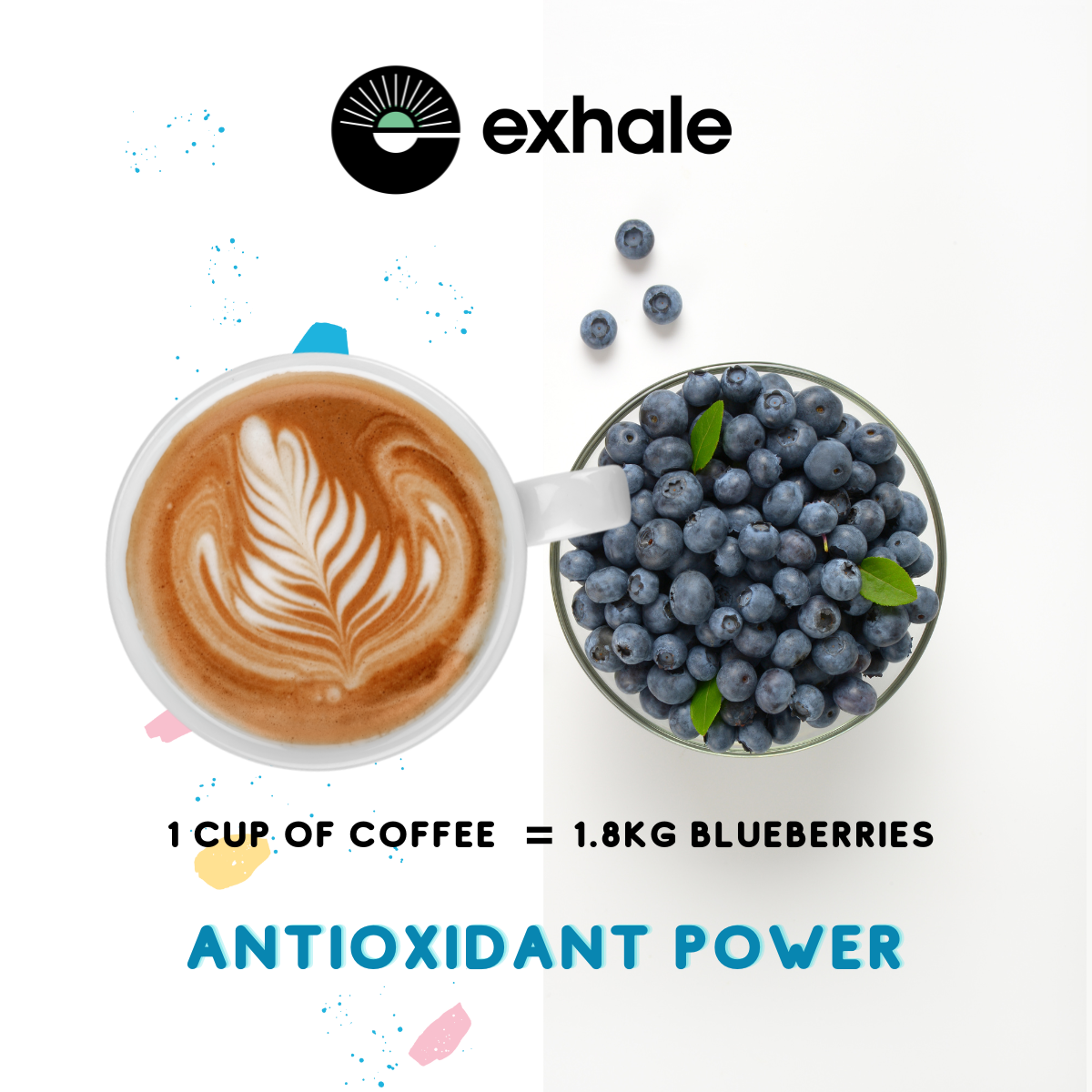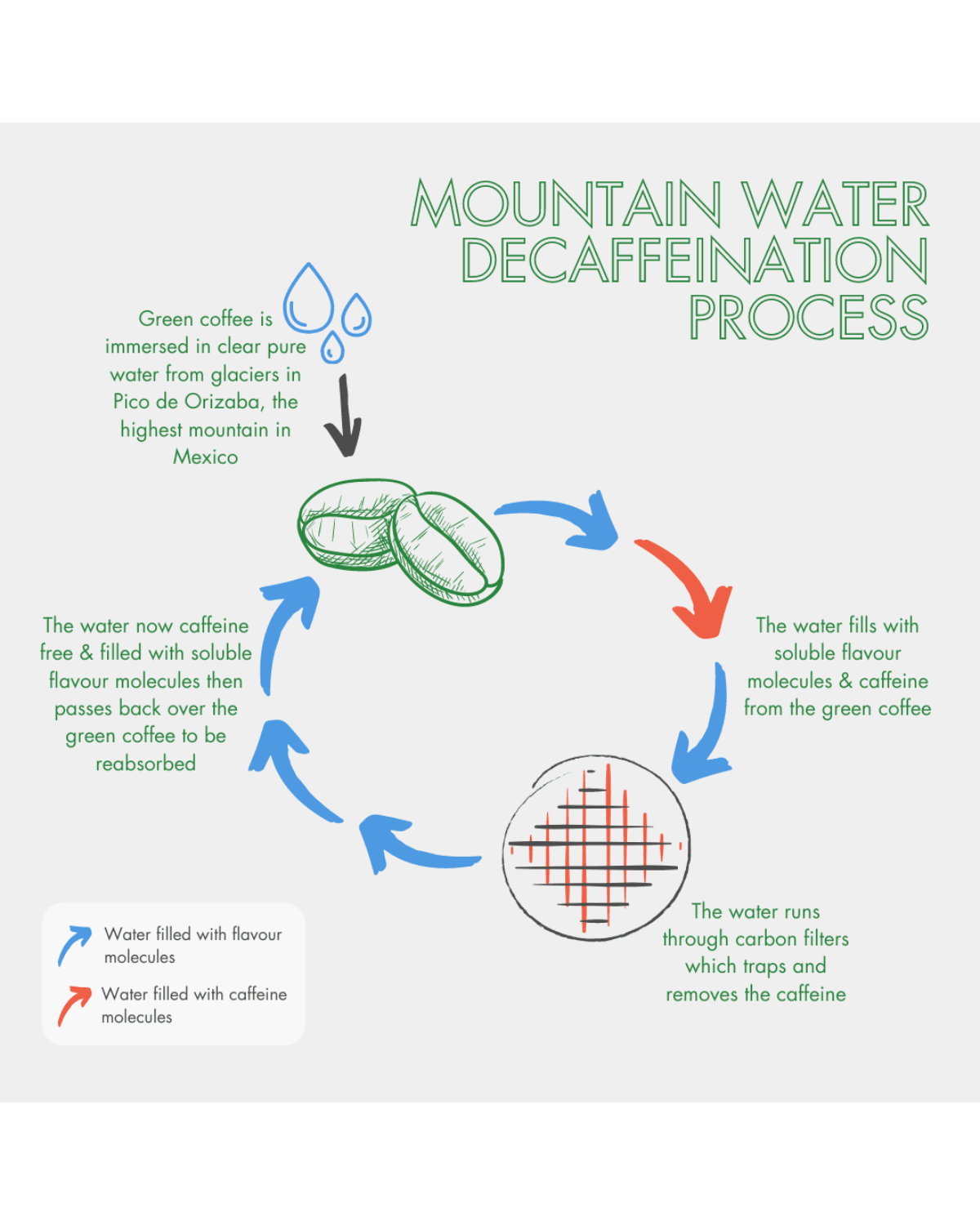 Organic Decaf
---
An XL 450g bag of our healthy, organic decaf that's been decaffeinated using the purest glacial water from the highest mountain in Mexico, and absolutely no nasty chemicals. Tastes so good even the pro's can't tell it's a decaf!

In March we doubled our bag sizes to 450g to halve our packaging and halve our carbon footprint as part of our commitment to sustainability. But per 100g, it's the same price as other speciality, organic coffees despite all our lab testing.
Our organic decaf coffee is the same coffee as our House and Dark(ish) roast coffee, but has been decaffeinated using the all-natural Mountain Water Process. 

7 reasons to drink Exhale Decaf:

More polyphenols & antioxidants: The same organic certified coffee as our House Roast - sourced and roasted for high levels of antioxidants, polyphenols and vitamins.
Mountain Water Process: Decaffeinated using only the purest glacial water from the highest mountain in Mexico, the Pico de Orizaba. 
No nasty chemicals: Most decaffeination is done using 

methylene chloride or ethyl acetate - also used in paint stripper & nail polish remover.

 Not for us.

No nasties: Independently tested free from mycotoxins, moulds, pesticides and heavy metals which are especially high in most decaf coffees.

Selectively decaffeinated: The green beans are immersed in water to selectively extract the caffeine and leave more of coffee's healthiest compounds in place. 
More sustainable: Decaffeination is done near the farm where the coffee is grown in Mexico. Drastically reducing it's carbon footprint vs the Swiss Water Process which is done in Europe.
Sensational taste: Exhale decaf tastes so good even the pro's can't tell it's a decaf!

 

If you're used to drinking stale supermarket coffee, brace yourself, this will rock your world!

🌱 Plastic Free & Compostable Packaging

🚀 Next day delivery, 6 days a week, 4pm cut-off, fully tracked!
Subscribers get:

10% off site-wide for life!
Free UK delivery worth £3.48.
Tracked, next day delivery
An account to manage your subscription.
Cancel anytime within a few clicks.
Easily amend the frequency, coffee, grind size etc.
Get notified 3 days before your subscription renews via email (so you can change or delay delivery).

Benefits include:

Special rates on product launches
Exclusive invite to our live Coffee Club over zoom where industry experts teach everything from brew guides to how to use coffee for health optimisation!
Shipping, Returns & Guarantee

🚀 Order before 5pm for same day dispatch.

UK:
- Next day delivery by courier Mon-Sat

- Fully tracked

- Free delivery on subscriptions

- Over £35 is free shipping

- £3.48 shipping on non-subscription orders

*Next day delivery isn't 100% guaranteed as it's in the courier's hands. But we try.

International:

- Rates vary as calculated at checkout

- Taxes and duties paid upfront in Europe for fast delivery

- Fully tracked

We can offer both subscription and non-subscription orders internationally

Packaging:

Our coffee is sent in compostable, plastic-free packaging!

30-day money-back guarantee:

We are proud of our products, and we hope you love them as much as we do! So we offer a 30-day money back guarantee on all coffee.
450g of speciality grade, 100% Arabica, single origin, organic coffee.

We don't add anything else to make it healthy... because nothing else is needed!
Wholebean - Choose this if you have your own grinder.

Fine Ground - Choose this for espresso machines.

Medium Ground - Choose this for everything else, including cafetiere, AeroPress, dripper, Moka pot etc..

NOTE: this is not instant coffee. It's real, fresh roasted, life-affirming coffee and so you will need to brew it in something like a cafetiere, filter, AeroPress etc.
For max health benefits drink 2 to 3 cups of regular or decaf a day.