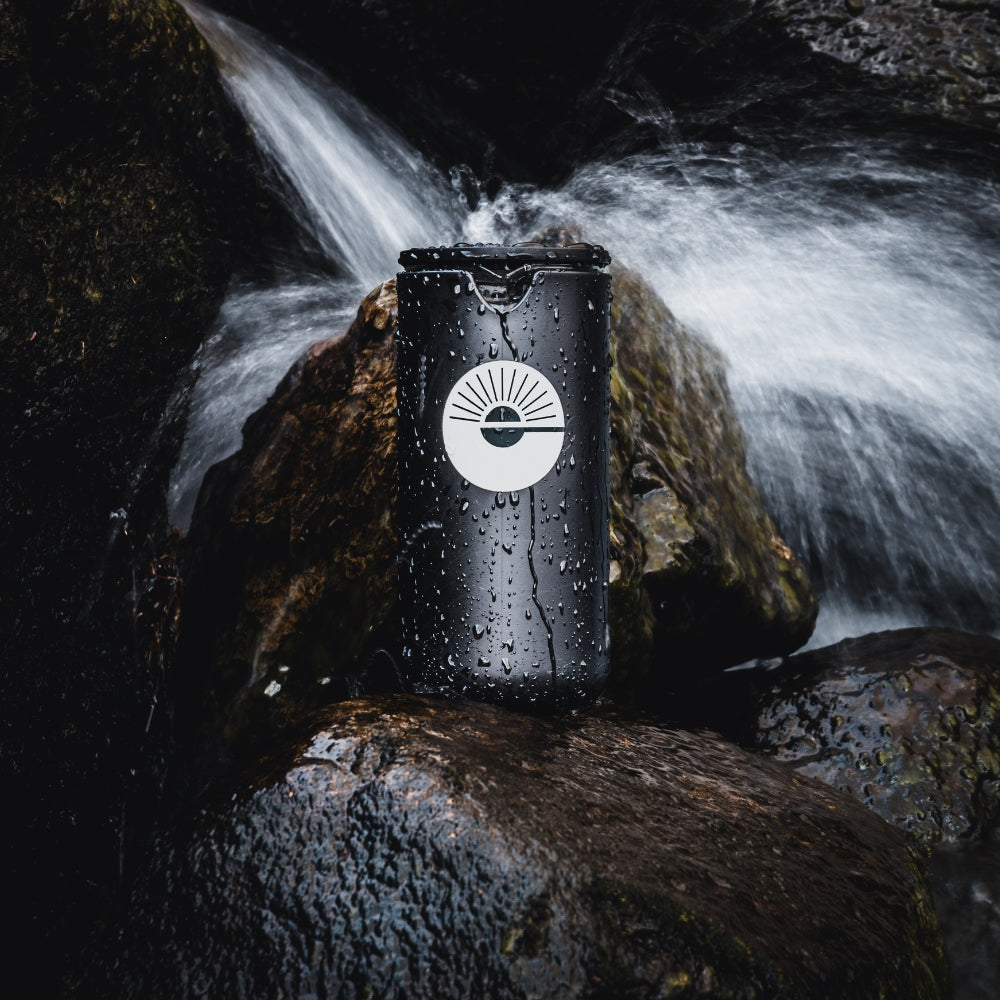 Doctor's Kitchen partner offer:
Get a free Exhale x Timemore French Press worth £24!
STEP 1: Choose your coffee and create a fully-flexible subscription. There's no minimum term and you can cancel easily anytime.
STEP 2: Add your cafetiere to cart
STEP 3: Checkout and use code KITCHENFREE
**For an alternative offer scroll to the bottom of this page. New subscribers only**
Get Started
Dr Rupy answering the question: How can a coffee be healthy?
STEP 1: Choose your coffee
🌱 All sold in double-sized bags for half the packaging and half the carbon footprint 🌱
STEP 2: Add your free gift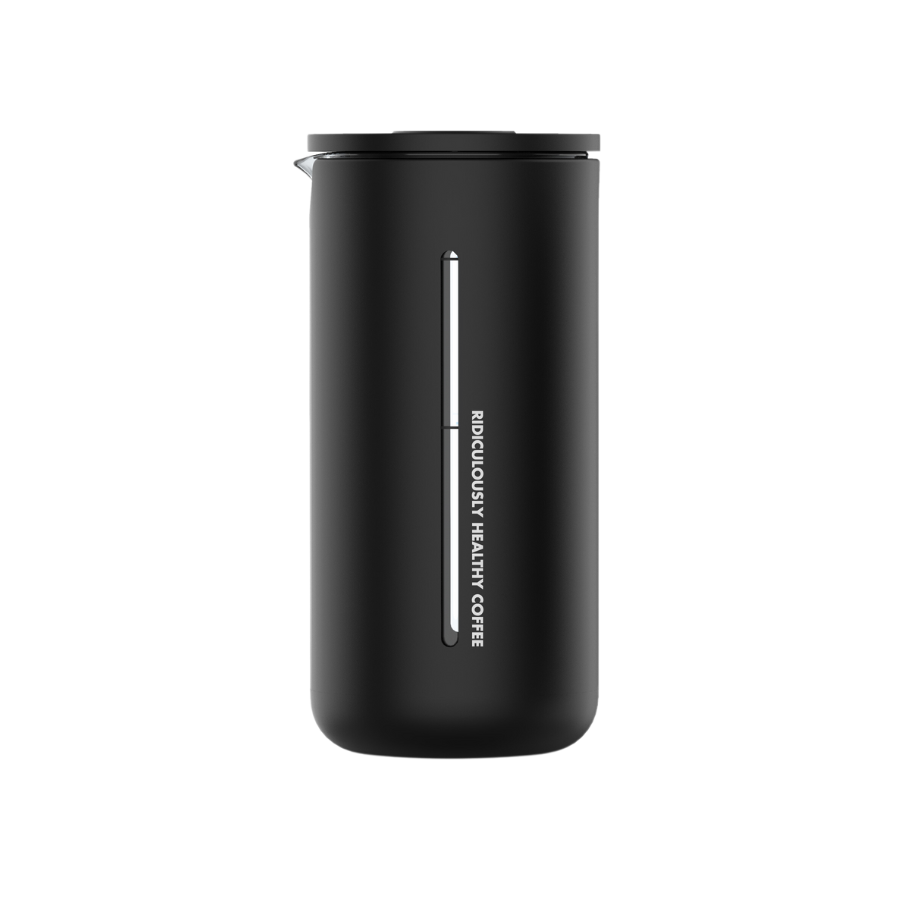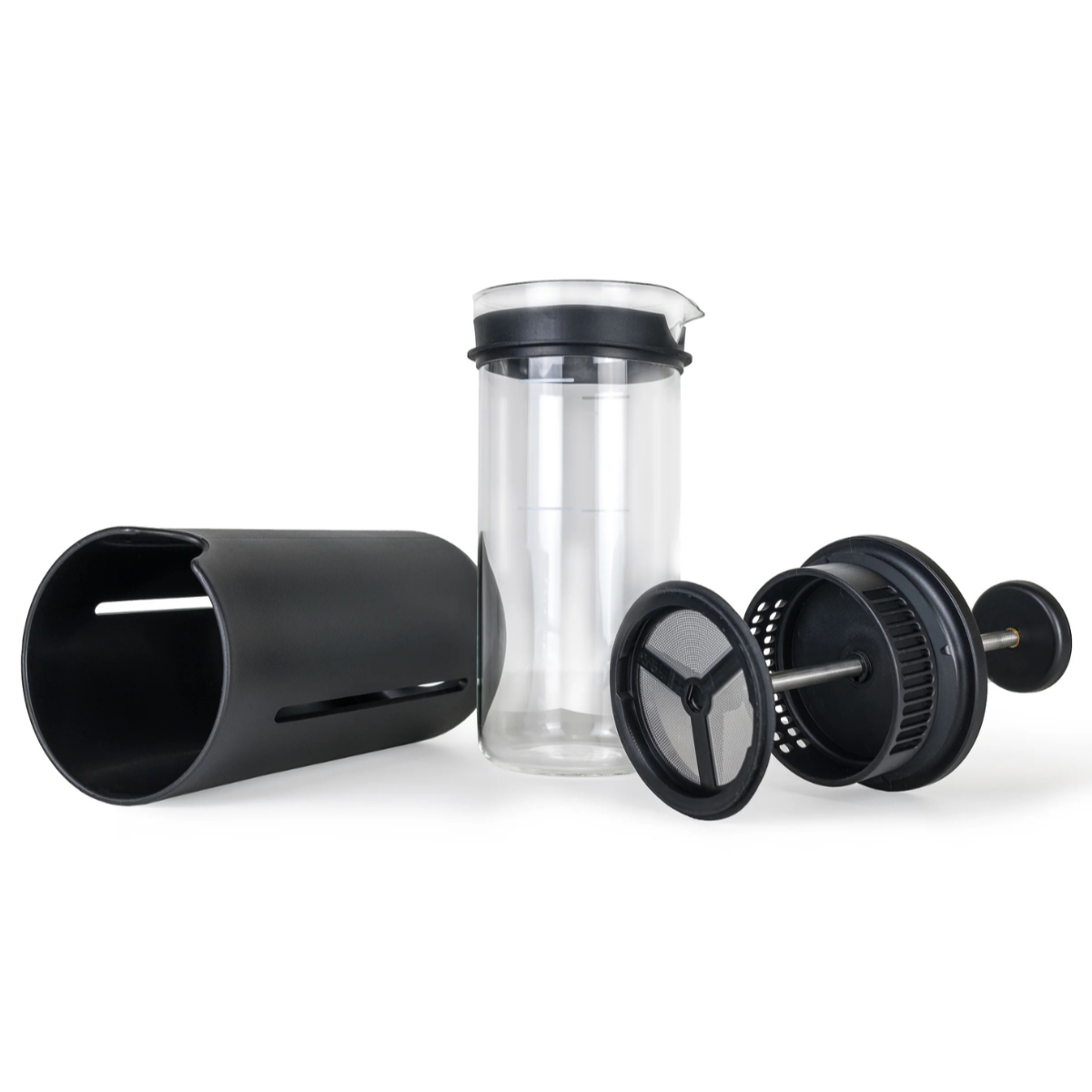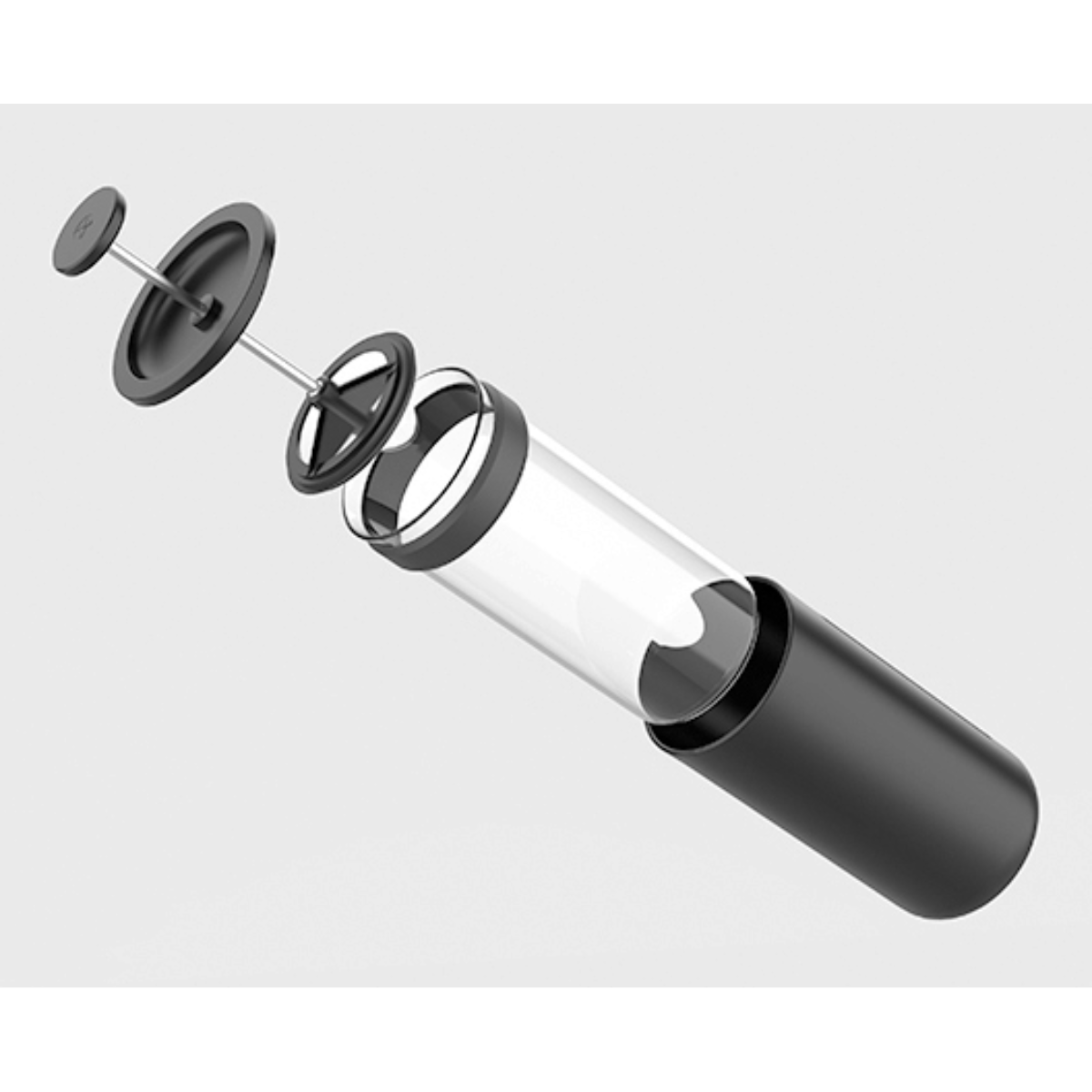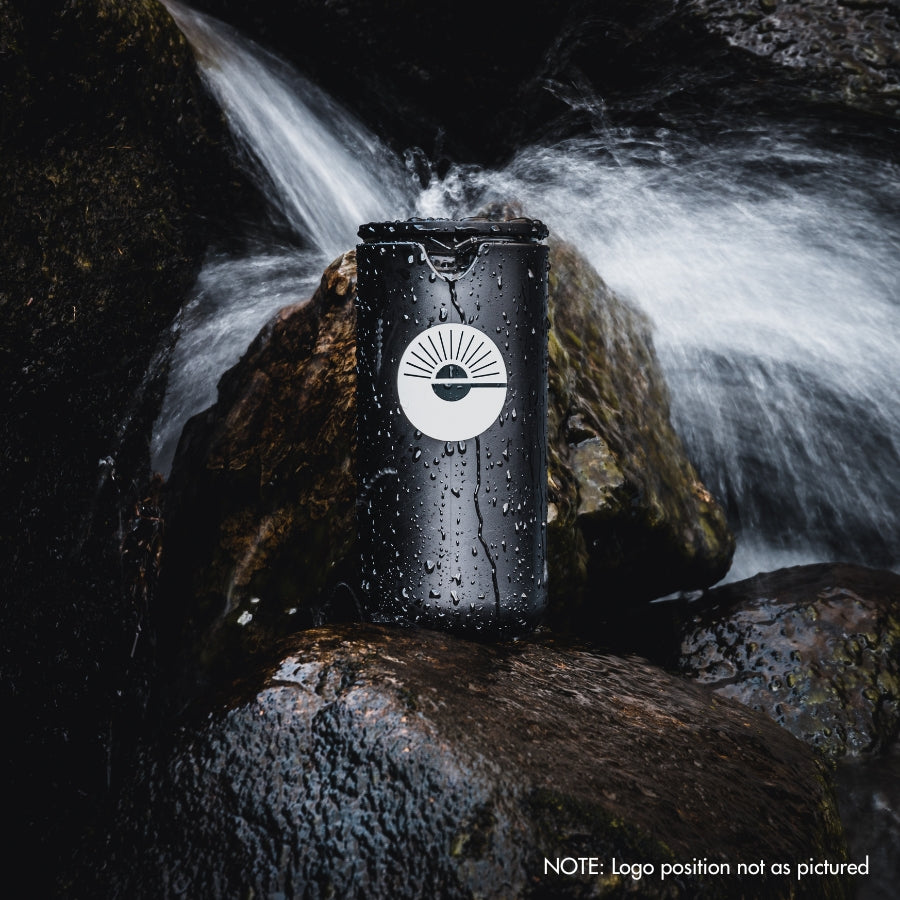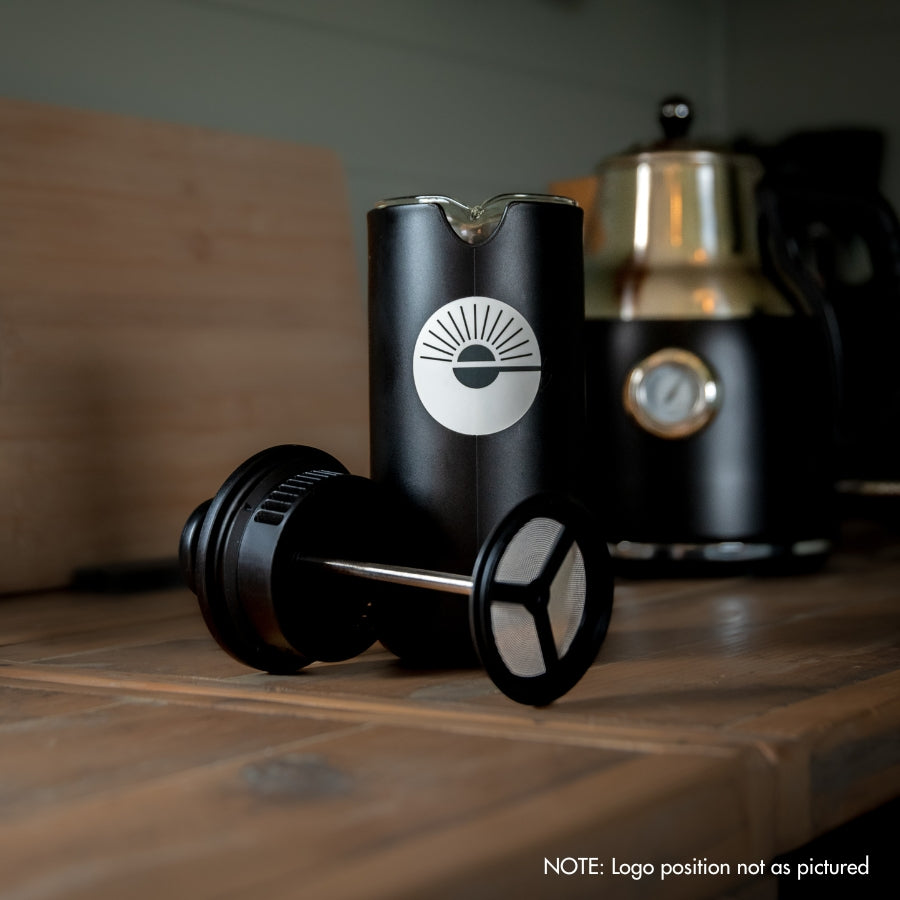 ---
After falling in love with the Timemore Grinder we decided to add their cafetiere (French Press) to our list and we weren't disappointed!

Cafetieres are super easy to use, and have a special place in our hearts as we did our antioxidant lab tests on coffee brewed in a cafetiere.

***1 cup of Exhale Healthy Coffee brewed in a cafetiere tested to have the same antioxidants as 12 punnets of blueberries!***

Plus, they have a steel filter built right in to let all those healthy compounds through.

We love it because it's:

Truly sustainable - NO pods, NO wasting paper filters. Completely reusable for years to come.
Better for you - yep, they're better for your health! Two of the healthiest compounds in coffee, cafestol and kahweol are fat soluble. So, they're transported in the oils that are released as coffee brews. Paper filters are so dense they remove 98% of those oils taking with them the wonderful cafestol and kahweol. Whereas the steel filter of a cafetiere is the perfect size to let them all through. 


Product information

Brand: Timemore 
Body material: heat-resistant borosilicate glass
Plunger & filter material: High-density stainless steel with food safe silicone
Colour: Black 

Capacity: 450ml, 3 Cup (per the manufacturer, or 2 mugs for real people...)

Note: Printed with Exhale logo and text written up the side, not the big 'e' on the front - but the pics look awesome so we had to still include them!
Note: the logo position is on both sides per the above, not the big 'e' in the top image. It's just too incredible a photo not to use it!
Benefits of subscribing
Cancel or skip easily anytime
10% off all coffee and kit for life!
FREE UK delivery, 6 days/week
Pre-shipment reminders with 1-click delay
EU taxes and duties prepaid
Fully tracked worldwide shipping
What makes Exhale unique?
Our uncompromising focus on sourcing, roasting and lab testing our coffee for health, taste and sustainability.
Benefits of daily use

Jitter-free
High polyphenol levels reduce caffeine anxiousness.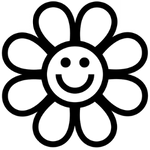 Stress support
Antioxidant powerhouse, 1 cup = 55 oranges!

Gut health
Polyphenols and fibre feed your friendly gut microbes.

Brain health
2 cups naturally contain 20% RDA of niacin needed by your brain.
Performance
Caffeine and polyphenols improve mental and physical performance.

Longevity support
Through protection against DNA damage.
Help choosing your coffee
Coffee
Organic House Roast
Organic Dark(ish) Roast
Organic Decaf
Tasting notes
Well balanced with a creamy body. Notes of orange marmalade, vanilla and lemon sherbet
Fudge brownie, caramel and hazelnut with a smooth, syrupy body.
Syrupy body with dark chocolate, almond and red cherry
Perfect for
With a jammy, citrus flavour, our House Roast is a party in a cup! Perfect if you prefer filter coffee, or drink it black.
Perfect if you prefer a stronger tasting coffee with a more chocolatey body. Works well in espresso, any coffee with milk, or Bulletproof coffee (aka Butter Coffee or Keto Coffee)
For those avoiding caffeine. Or for the true health optimisers who want to add an extra dose of antioxidants and polyphenols into their afternoons!
Process
Mountain Water Process, Organic
Can I have something else instead of a cafetiere?

This is primarily an offer to celebrate the arrival of our new cafetiere's.

However, we appreciate you may already have a cafetiere so we'd love to offer you £20 off an Airscape instead!

If you create a new subscription and also add an Airscape to cart you can use code AIRSAVE20 at checkout for £20 off.

See below for more info on why you need an Airscape!

Enjoy!
How will Exhale make me feel?

Rather than answer this ourselves here are what other customers feel after drinking Exhale (all verified Trust Pilot reviews):

"I'm so alert and stable for the entire day, compared to a normal coffee which spikes before shortly plummeting. Exhale are game changers."- Amanda Evans, 19th Dec 2022.

"I'm in love. No blood sugar crashes, no IBS stuff. Just focus and energy". - Magdalena M, 6th Feb 2023.

"I am a coffee snob and this is simply delicious!" – Vicki, 4th Feb 2023.

"As a life long IBS sufferer who has struggled with coffee exacerbating symptoms I can honestly say that Exhale has been only beneficial for my gut health, my IBS is gone!" – HannaP, 13th Dec 2022.

"Really have noticed the difference in my alertness since using Exhale" – danielmensah, 31st Jan 2023.

"I can honestly say, my one cup of exhale mid morning is one of the highlights of my day, it is simply happiness in a mug!" – L F Wates, 18th Jan 2023.

"The flavour of Exhales organic house roast is exquisite. I'm not even going to try and describe the taste sensation, it just needs to be experienced." – Jane, 3rd Jan 2023.

"If you are on the fence about buying and looking at reviews to see if you should, then this review is to tell you that YOU SHOULD! And if this review doesn't do it for you then just head over and talk to Exhale Coffee their humility and kindness will definitely sway it for you. :)" - John Brotherton, 11 Nov 2022.
How much should I drink for max health benefits?

The research is clear - for the maximum health benefits from coffee you should drink 3 to 5 cups a day (or 2 to 3 mugs). Read our article on how much coffee is too much?

1 x 450g bag contains around 30 mugs of coffee.

If you're sensitive to caffeine try mixing our regular coffee and our decaf for a half-caf. They're from the same farm so mix well together. Or go for our decaf.
Why do you only offer extra large bags?

The cost of living crisis is affecting small business as much as consumers. Faced with having to put up prices to cover escalating costs we looked outside the box and an idea was born.

We put it to the vote and heard from over 2,000 of our subscribers. They were overwhelmingly in favour (>90%)...

So from the 6th of March we only offer double the coffee (450g) in the same sized pouch, for double the price, so no net price increase.

Overnight we halved the packaging used and send half the deliveries so halving our outbound carbon footprint. This means no net price increase for you, but a huge win for the environment. And for us, we made cost savings needed instead of putting our prices up.

For more info email Laura on hey@exhalecoffee.com
How flexible are your subscriptions?

It's the most flexible subscription possible!

If you subscribe you'll be able to head back to our website anytime and at the click of a button you can:

❤️ Change your coffee variety

❤️ Push back your next delivery date

❤️ Skip a delivery

❤️ Cancel your subscription

❤️ Change your delivery address

❤️ Add in an extra bag at a discount!

And more!!
No, it needs brewing in something like a cafetiere, AeroPress, espresso machine or dripper etc.

It's well worth the effort though because it's healthier and more delicious!

Check out the merch section of our website for our Team Exhale approved kit.

Instant coffee has been linked to some nasty diseases and has 4 times the amount of mould / mycotoxins on average! Read our article reviewing the latest research.
Is Exhale coffee mould and mycotoxin free?

It is indeed. We test every shipment of our coffee at an independent lab for pesticides, mould, yeasts, mycotoxins and heavy metals to verify the coffees absolute purity.

It is then stored in GrainPro ultra-hermetic sealed bags in a temperature controlled environment.

Most supermarket bought coffees were roasted and ground months before you buy them leaving them likely to stale and open to contamination. All our coffee is roasted fresh weekly to make sure you're drinking the freshest, cleanest possible brew.

If you want to know more, read our article on why you should avoid mycotoxins and learn how they're a bigger issue than you may think in coffee.
How can coffee be healthy?

Coffee comes from a fruit and like any other fruit is packed full of naturally healthy compounds. The most beneficial being polyphenols such as chlorogenic acid.

Through over roasting and poor handling these compounds are often significantly reduced in other coffees. Studies show up to a 31-fold difference between some cups of coffee!

During our unique process we sourced a bean naturally high in the healthiest compounds and roasted in a way that locks in as much of them as possible.

We also keep out the bad and our organic coffee also independently tested to be free from moulds, mycotoxins, pesticides and other nasties.
Do you add anything to Exhale coffee to make it healthy?

No we don't, because we don't need to!

A good quality coffee that's been treated right is as healthy as any other 'superfood' on the planet.

There's a modern trend towards taking poor quality ingredients (such as instant coffee, read our blog on that here) and adding whatever the latest fad, on-trend superfood is to make it 'healthy' again.

We instead took the care to (obsessively) look after every stage from farm to cup and work with the wonderful things naturally in our coffee already.

It definitely wasn't the easiest option, but it's the best one for you and the planet and that's what matters to us. 😁
Can I get health benefits from all coffees?

Yes you can, but multiple studies show the quantity of the healthiest compounds vary immensely from coffee to coffee.

In 2014 one study tested 104 espressos from cafes in Scotland, Italy and Spain and found a 31 fold difference between the highest and lowest concentrations of coffee's healthiest compound!
Coffee makes me anxious / jittery, will Exhale be better?

It should... One study shows that polyphenols counteract the negative effects of caffeine, reducing anxiousness. So a high polyphenol coffee like Exhale should reduce the jittery effects from caffeine.

This has been confirmed by lots of our customers who have reported this (just search for jitters or anxious in our Trust Pilot reviews).

However, everyone is unique so it's impossible to say for certain how you will react. And if you're really worried then we also do a cracking decaf.

I'd love to know how you get on so please drop me an email on alex@exhalecoffee.com if you do try it. 
Will Exhale coffee make me perform better?

Yes. It's true.

Caffeine is one of the few scientifically proven 'ergogenic aids to performance'. Meaning it will help you preform better, on average 11-12% better according to 2x meta-analyses!

However, unlike other coffees, Exhale coffee is also high in polyphenols which studies have shown can improve both sprint and endurance performance.

So in Exhale coffee the caffeine and polyphenols work synergistically to give you a double performance boost! Win win!!

For more, read our blog on how to use coffee to set a new PB.
Most of the health benefits are the same across the caffeinated and decaf versions, with only a minor magnification of effects in some areas due to the 'entourage effect'. So you're still onto a winner with the decaf.

The areas where decaf isn't as protective are broadly:

Liver health. Coffee is very protectiive of the liver. Those effects are more pronounced in regular coffee.
Cognitive health. Especially age-related cognitive benefits are slightly less pronounced in decaf.

I wouldn't worry though, if you're not a fan of caffeine (or it's not a fan of you!), the decaf is still packed full of antioxidants and polyphenols so is hugely beneficial. 
Is Exhale coffee as healthy for the planet as it is for people?

We try our best to make sure it is.

Health, taste AND sustainability were genuinely equally prioritised at every stage of our process. Whcih was recognised by our B Corp certification.

So technically there could be a healthier coffee out there (shhh!) but perhaps it didn't pay a fair price to the farmer, or was grown with polluting, non-organic pesticides, in which case we wouldn't touch it.
Is your packaging environmentally friendly?

It's as good as currently exists... all our coffee is delivered in compostable, plastic free packaging, and all the paper we use is from FSC Certified renewable sources.

The pouch itself is home compostable (you can compost it in your garden) but the valve and zipper are industrially compostable so tear them off and pop in your green waste bin.

The world's insatiable thirst for polluting, single use plastic has to stop. And we want to be part of that change.

We're always looking for more environmentally friendly ways to package our coffee so please let us know if you have any suggestions!
Alternative Gift: Save £20 with code AIRSAVE20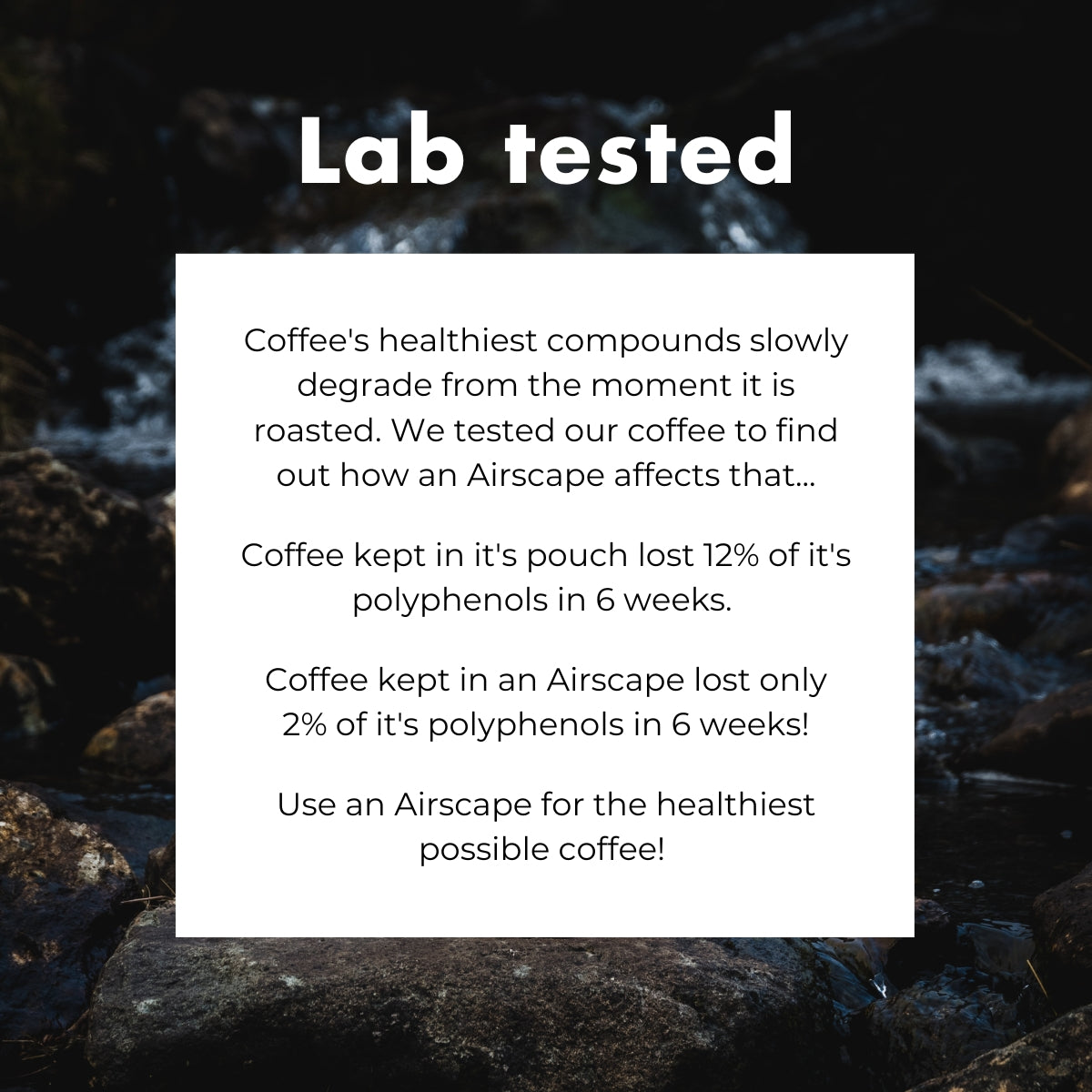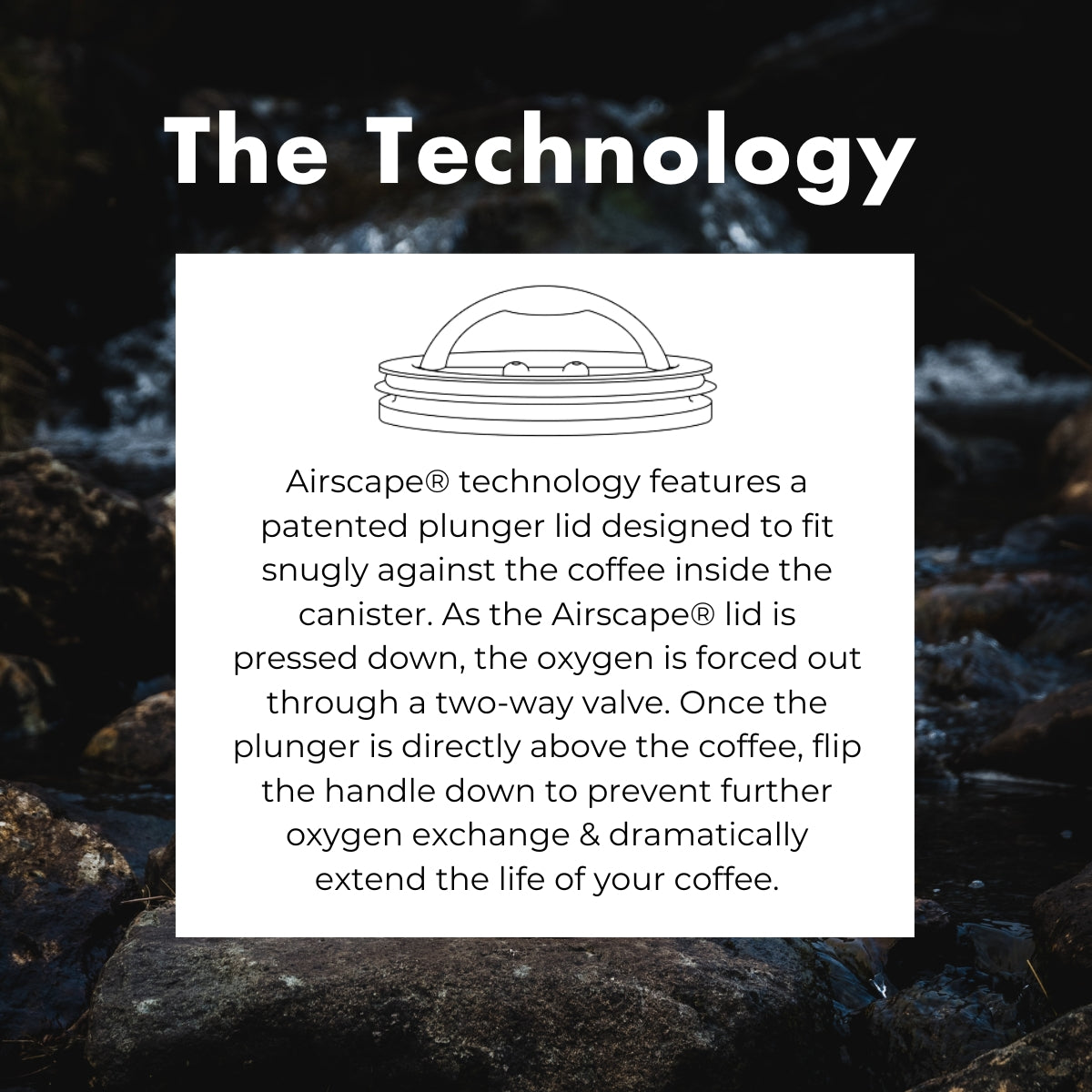 Sale price

£35.00 GBP
Regular price

£39.00 GBP
(/)
Save 10%
The Exhale x Airscape coffee storage container with our signature illustration - holds 500g of coffee. 

With a sleek design they work in any kitchen. The manufacturer, Planetary Design, also donate to a local food charity with every container bought.

17.5cm tall by 12cm wide.

Keeping you drinking the healthiest possible coffee is our top priority, so we tested every container on the market (literally) and found these to be the best at keeping your coffee fresher for longer.

5 Reasons we LOVE the Airscape

Airtight - Oxygen is the primary cause of coffee's staling. The Airscape uses a plunger mechanism and so has a 'better-than-airtight' seal.
One-way valve - Around 1% of the weight of freshly roasted coffee is CO2 gas formed during the roasting process. This is released by the bean, called degassing, for about one month after roasting. The Airscape has a one-way valve to allow it's release.
Oxygen reduction - The Airscape uses a plunger, which as you push it down to nestle on top of the coffee, pushes most of the air out. Less air (and so less oxygen) means fresher coffee.
Design and durability - The body is made from galvanised, restaurant-grade steel. It's dishwasher-safe and is truly built to last.
No nasty chemicals - The lid and plunger are BPA-free, durable plastic.

Works perfectly well with ground coffee, in fact if you buy pre-ground coffee you will benefit from one of these so much more. Pushing the plunger in is no issue. But be careful when pulling it out that you do it slowly and don't launch ground coffee across your kitchen. 
How to save £20 on an Airscape
Create a fully flexible subscription, add an Airscape to cart then use code AIRSAVE20 at checkout to save £10.
Why we recommend an Airscape
Stays healthier for longer. Airscape's have a patented plunger system to push the air out, slowing staling and keeping your coffee fresher, tastier and healthier for longer!
Lab tested. Independent tests showed coffee left in its pouch for 6 weeks lost 12% of its healthy polyphenols. Coffee left in an Airscape lost just 2%!
I'll stick with a cafetiere